Who's started counting down the days until series two of Riverdale? Now that we know it's arriving on US TV on Wednesday 11 October – and presumably on Netflix two days later, in its usual Friday slot – we're struggling to focus on anything else. You see, we've been suffering major withdrawal symptoms over a certain Jughead Jones, aka Mr Cole Sprouse.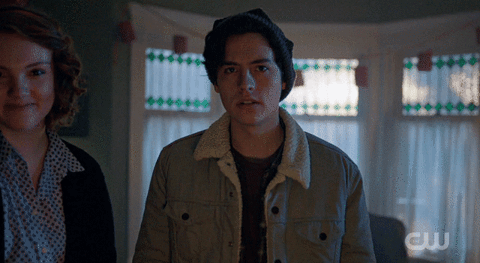 Is it his epic observations on the rest of Riverdale? The fact that he's from the wrong side of the tracks? Or just because he's so blooming cute? Who knows, but we've definitely got a crush on Jug and the boy behind him.
Southside Serpents and that brooding voiceover aside, there are plenty more reasons to love the actor formerly known as 'Ben from Friends'. Here are seven of them…
He's not just an actor, but a super talented photographer, too
Cole recently shot Kendall Jenner for the Sunday Times Style magazine and has also snapped an adidas running campaign, as well as editorials for Teen Vogue. Not just a pretty face (but he does look great in front of the camera, too…)
He has a hilarious second Instagram
If you're not following @camera_duels, get on it now, because the captions alone are among the most brilliant we've seen. According to its bio, "This Instagram is dedicated to the people out there who secretly take photos of me, and how I take photos of them first. May the fastest camera win." Cue a feed full of randoms trying to take sneaky snaps of Cole, accompanied by captions of who won the duel, and what the fans said in their defence. Genius.
He RT'd this girl who said her aunt looked like him and it went viral…
Why does my aunt look like @colesprouse in this old picture?? pic.twitter.com/RolpMPYMeh

— Samantha Church (@SammyD2197) July 13, 2017
…which is kind of a reflection of Cole's Twitter in itself. Full of self-deprecating humour and sarcastic life advice ("yawn in the club to see who's checkin you out"), if you're not following already, you know what to do.
He wrote this love letter to his mum as a kid
I was a psycho baby before it was hip. pic.twitter.com/Yoby0Rxp6w

— Cole M. Sprouse (@colesprouse) May 14, 2017
Then shared it with us all on Twitter. He really did have some Jughead tendencies back then, by the looks of things.
He admitted to a childhood crush on Jennifer Aniston
Speaking to the New York Post earlier this year, Cole – who played Ross' son Ben in Friends when he was "7 or 8" – said: "I had a really, really hard time working with Aniston because I was so in love with her. I was infatuated. I was speechless — I'd get all bubbly and forget my lines and completely blank … It was so difficult." We'd have been the same, tbf.
He's never not cute
Can you tell which year I assumed Cole Sprouse's identity? pic.twitter.com/SVJk2Lp63I

— Cole M. Sprouse (@colesprouse) May 16, 2017
SERIOUSLY.
This GIF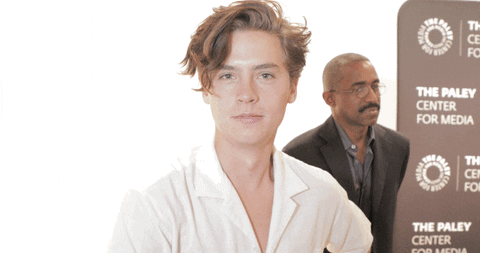 Excuse us while we lie down for a minute…
It's time you started celebrating your period, guys. Sign up to bettybox RN and get all your tampons and pads, beauty products, sweet treats and loads more cool stuff delivered to your door, every single month. We know. It's totally awesome. 
Image: Riverdale/Katie Edmunds