Sunday evening. Doom. A time of the week so loathed that it even got its own syndrome, the Sunday night blues. That sinking sensation in the pit of your stomach couldn't be more different from the fizzy excitement of the Friday feeling just 48 hours before.
But I think Sunday evening gets a bum rap. Rather than being a boring passage of time to kill before getting on with Monday, it's actually flying under the radar as secretly, secretly the best time of the week.
No, hear me out. Here are three reasons why.
1. Homework
Most articles about Sundays advise that you get your homework done on Friday so that you don't have a pile to face at the end of the weekend. This can be a good idea, sure, but I also think that Sunday night is a brilliant time to do homework. By Friday evening you're often knackered from a busy week and need a bit of a break. Plus loads of the good stuff happens on Friday night! However dedicated you are to getting good grades, it's not realistic (or good for your overall wellbeing) to expect yourself to turn down the chance to go out and have fun in order to finish your Geography essay (no disrespect, Geography).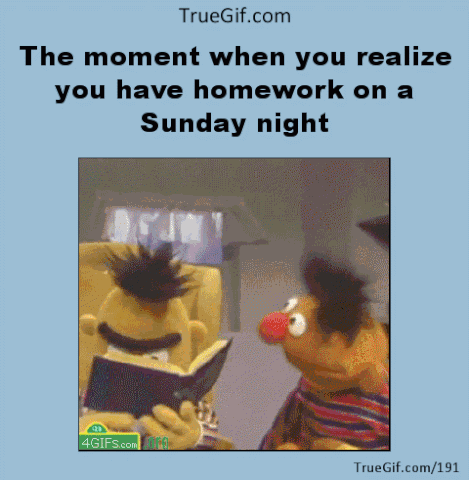 So rather than feeling the pressure to get everything finished at the start of the weekend, see how it feels to open your books when it's quiet on a Sunday night anyway. Decide in advance what time you're going to start so that you don't spend the whole day thinking about it, then stick on a chilled playlist and enjoy working knowing that you've already had a great weekend. Hopefully.
2. Comfort TV
You might think I'm deranged for saying this but the best TV is on Sunday evenings. I know that literally no one else in the world agree with me. My best friend claims that the theme tune to The Antiques Roadshow actually triggers the Sunday night blues for her.
But I don't understand this at all. Regardless of how boring the programme itself may be, you can have loads of fun with it. As well as the classic game where you guess the value of the item, there's also 'Sad, smug, surprised' (copyright: me), in which you have to predict whether the owner will look, well, sad, smug or surprised at the valuation. Get those around you to join in. You never know what you might learn from their rationale; turns out my boyfriend has an irrational dislike of red trousers on men.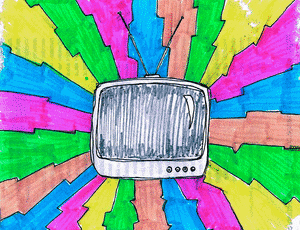 And whatever your idea of comfort TV, there's something to suit scheduled on Sunday evenings. Get all teary at Call the Midwife, indulge fantasies about a former life at Downton-esque period dramas, go all Cluedo watching a crime mystery or be on alert for embarrassing moments in live productions, like when everyone's slightly creepy uncle Tom Jones dropped the F-bomb during The Voice final or when Bruno swears on Strictly. Bruno is *always* swearing on Strictly.
If you can invent a silly game to accompany your chosen programmes then that makes it even better – in a world that can seem scary and unpredictable, there's something super comforting about looking out each week for the same element of a television programme. As well as The Antiques Roadshow, I totally recommend Countryfile for this. No seriously. Entertain yourself playing 'Snog, marry, avoid' with the presenters, of which there are many and they change each week. If you're lucky Tomasz Schafernaker, the Dermot O'Leary of weather forecasting, will be the meteorologist #winningatlife.
3. Do what you like
If for some bizarre reason neither homework nor crap – sorry, 'comfort' – TV take your fancy then there's always the Sunday night trump card: free time. You probs don't often have anything scheduled for this time of the week so it can be totally clear for you to fill with whatever you fancy. There are so many options. Maybe you'd like to visit your gran more, or have a regular slot to Skype your mate who has moved abroad. Perhaps you're always searching for a few hours to work on a project, such as writing a blog, or you'd like to claw back the chance to read books that aren't set texts.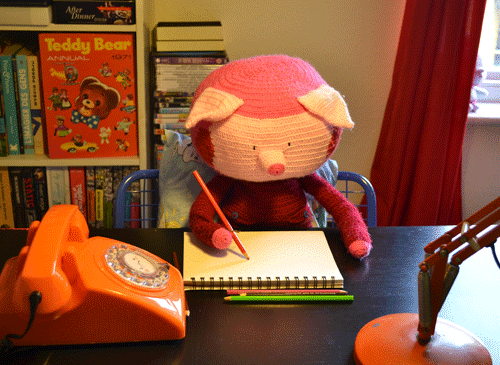 However big or small your ambitions, what we often think of as dead time from about 4pm on a Sunday offers a great opportunity – even if all you want to do is lie on the sofa eating cake. Because really, isn't that what Sunday evenings were made for? I'm off to put the kettle on.
It's time you started celebrating your period, guys. Sign up to bettybox RN and get all your tampons and pads, beauty products, sweet treats and loads more cool stuff delivered to your door, every single month. We know. It's totally awesome. 
Image: Katie Edmunds