When celebrities have their photos taken on holiday looking like the epitome of relaxation, or magazines write about getting 'perfect holiday skin', are we the only ones who cry "WHAT PLANET ARE YOU ON?" at the top our lungs? Yeah, we thought not.
Anyone who has been on with their family – or a friend's family, or any family ever – knows that there's sometimes a lot more sandy sunburn than sunkissed sun-lounging, more grumpy grandparents than great adventures and more toddler tantrums than dreamy tropical tunes.
But the good news? It's not all doom and gloom. Really! Promise! It's normal to be worried about a family holiday, but all kinds of great stuff will happen on them too. And we're here to help you make it definitely bearable, probably enjoyable and maybe even… fun? Or fun enough to look idyllic on Instagram at the very, very least.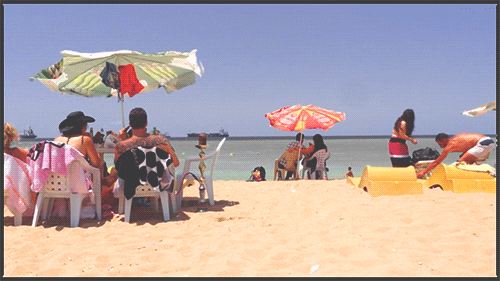 First of all, stop trying to make a dream holiday happen. It's not going to happen.
Whether you want your holiday to look picture perfect, for everyone to get on all of the time or for that trip down to the other end of the beach to turn into an Indiana Jones-style adventure, chances are it… won't. There will be a huge mix of fun, nice moments, pretty sunsets, mediocre-kinda-alright sunsets, plain dull moments and maybe a disagreement or too when people start getting tired.
But look, come closer, THAT'S TOTALLY NORMAL. Accepting that it might be a bit less than ideal at times will actually make the whole holiday more enjoyable in the long run.
Make peace with your dad's embarrassing dad dancing right now
Parents and older relatives are really embarrassing sometimes. It's a universal law. But remember that this is their holiday too, and dancing like a particularly uncoordinated robot might be just what relaxes your dad. Or finding karaoke and singing Madonna might be just what your mum needs to have a good time. You don't have to love every second of it, or any second of it, but try not to sulk and at least fake a smile. We heard your mum's version of Material Girl is actually quite decent anyway.
Try your best to move on from arguments, no matter how hard it seems
If arguments happen, try your best not to hold a grudge. Say sorry. Move on. Sure, it takes a big person to do that – but you can be that bigger person. Reward yourself with an ice cream.
Sorry to be a bore, but wear sun cream. Lots of sun cream. And spend some time out of the sun too
We know, we know, we don't want to sound like your I-always-know-best, goodie-two-shoes aunt. But although the sun is lovely and all, we're just not designed to bake in it all day long – especially if you're lucky enough to be holiday-ing abroad rather than in the UK.
It can be tempting to ditch the SPF 30 and run about in the sun all day, but you'll pay for it as the evening rolls in with a bright red nose, a banging headache and a short temper. So get a hat on, slap on the sun cream and chill under a parasol (so chic) or swim in the shady side of the pool for an hour or two.
Fight the urge to compare and despair
Whether it's the perfect family down the other end of the beach who are happily playing volleyball, your friends who are on holiday all together and you're getting serious FOMO, or a top Instagrammer who always looks flawlessly glam on holiday while you're wiping up your baby brother's sick… stop, and remember. You don't know what's going on behind-the-scenes, you're only seeing their best bits and highlight reel. Comparing yourself will only make you feel sad.
Because you know what? Your holiday doesn't have to be one magical, fun Instagram party
It doesn't all have to be beautiful or magical or get you 10 million Insta-likes. Some of the most fun you have with your loved ones might be just sat around chatting about nothing, or playing some crap old 90s board game you found in the hotel reception. #bliss
Psst… it's also ok to feel bored
When your grandparents were your age, chances are they got bored a lot. They didn't have Netflix, or a billion ways to chat to their friends, a billion way to watch TV shows or order food to their door, or the bloody INTERNET. Nowadays it's different; we're not used to getting bored. That means the idea of having nothing to see and maybe no wifi or 4G while you're on holiday might seem scary. But it's your chance to do things you wouldn't usually, like explore, move about, just sit and enjoy the scenery or listen to music. And get some time away from your phone. Phones aren't evil, but it is nice to reconnect with nature and family a bit. Remember them?
You could try getting creative and taking lots of photos…
Is the boredom too much? Can't handle another story from Gran about the dark ages? Then get your phone back out – but resist the urge to open Snapchat, turn the screen around from selfie mode, and start taking some nice photos instead. Being away is a great excuse to get creative.
And a great excuse for your family too, if you can't be parted from your phone. "I'm releasing my inner passionate artist guys," you can wail. "I'm not on Instagram. Promise!"
…or putting yourself in charge of research
Trip Advisor, Instagram hashtags, the whole of Google. Scope out some great restaurant recommendations, find the best beaches and look for quirkier stuff to do in the area. Having a purpose while you're away will make you feel good if you're getting bored, and you're guaranteed to find some hidden gems that way too!
Get some alone time
Don't feel bad about taking a bit of time away from everyone, even if it's just reading a book while they're all going for a swim. It'll make you less likely to feel cramped or trapped or frustrated by the fam.
Do something nice for someone else no matter how annoying it might feel
If everyone is getting on your nerves, the last thing you might want to do is be nice to them. But it can get you out of your own head, forgiving people feels nice. Promise! Use it as an excuse to cook one night if you're on a self-catering trip, or get out of the house and buy a cheesy souvenir for them.
But most importantly? Let yourself have fun
When you know you're going away with your family it can feel like one long, annoying trial. About as fun as a dentist appointment or waiting in traffic while you're stood up on the bus. But try to embrace the fun where you can find it. Take a break from playing the moody teen, if that's usually your thing. Try to have a sense of humour about the stuff that might usually drive you up the wall – because before you know it, you'll be packing to come home again.
It's time you started celebrating your period, guys. Sign up to bettybox RN and get all your tampons and pads, beauty products, sweet treats and loads more cool stuff delivered to your door, every single month. We know. It's totally awesome.