Being sporty is hard, man. Unless you're one of those girls whose ponytail does the perfect swish while running a 5k without breaking a single bead of sweat. Stomach cramps, sweaty fringes, big boobs and chafing thighs do not work in our favour. But even the world's biggest female champions face the same hardships.
If you ever feel blue about having to go to PE while you're on your period, or you constantly battle with a bloated tum while working out – take a look at these awesome sporty girls and prepare to be inspired.
1. Fu Yuanhui's period-power statement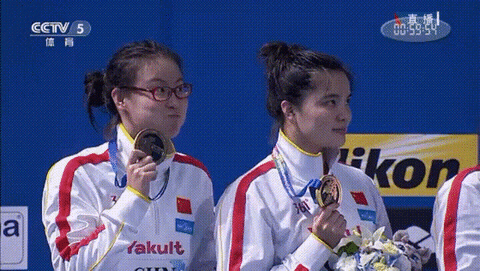 Fu Yuanhui might just be the coolest girl in sports RN. The 21-year-old Chinese swimmer was interviewed on live television after coming fourth in the 4x100m relay at Rio 2016.
Fu told the interviewer: 'I don't think I performed very well today. I feel I let my teammates down…It's because my period came yesterday, so I felt particularly tired – but this isn't an excuse, I still didn't swim well enough.'
She instantly became the star of Rio, breaking the taboo of openly talking about menstrual cycles to an international audience. Because – shocker! – top athletes have periods too.
And why on earth shouldn't Fu vocalise her experience? One can only imagine the tears of pain and frustration a boy would cry if he had to race with menstrual cramps.
Oh, and Fu went on to win a bronze medal in Rio *high five*
2. Paula Radcliffe's roadside poo
Ever found yourself half way through a cross-country run at school and felt a sudden urge to use the loo? We've all been there – the panic, discomfort and embarrassment are all too real. But the chances are that you probably make it to the ground-floor bathroom just in time to do your business.
But not three-time London Marathon champion Paula Radcliffe MBE. The English long-distance running hero is testament to the saying 'when you've gotta go, you've gotta go'.
With just five miles left to run in the London Marathon, Paula had stomach cramps and knew there was only one way to relieve them. She crouched down at the side of the road and did what she had to do. Paula ran on to win the marathon then endure some very awkward interviews.
We salute her for feeling the fear and doing it anyway, all in the name of ensuring a triple-champion title.
3. Serena Williams's bare-naked bump
Serena Williams has been ranked 'world's number one tennis player' eight times by the Women's Tennis Association. EIGHT TIMES – and there's me struggling to finish a lap limping around my local park on a Saturday morning.
She's also a UNICEF Goodwill Ambassador and heads up the Serena Williams Fund, which creates equality through education and assists victims of violence.
So Serena Williams is basically Wonder Woman but with a racket instead of a lasso and shield, OK?
And here she is heavily pregnant, butt-naked on the front cover of Vanity Fair earlier this year, absolutely slaying it. This shot screams 'LOOK HOW AWESOME ME AND MY BUMP ARE'. The whole shoot is beautiful and celebrates her fearlessness as a sports star, tenderness as a mum-to-be and pride in being a woman.
4. Sarah Attar runs for Saudi Arabia
Sarah Attar was one of the first two women to represent Saudi Arabia in the 2012 Olympics. Up until then, the Saudi Arabia Olympics Committee did not let women take part and represent their state in the world's most famous sports competition.
Sarah was only 16 at the time and wasn't asked to take part until the International Olympics Committee insisted on female participation at short notice.
Despite coming last in her heat (it's not like she had a proper chance to train!), she went on to run the marathon in the Rio 2016 Olympics. Sarah made a huge step for female sports in Saudi Arabia and her story makes us feel a teeny bit guilty about using a tummy ache as an excuse not to go for a jog.
She also has a really arty travelling Instagram, which is worth checking out.
5. Jessica Ennis-Hill's post-pregnancy comeback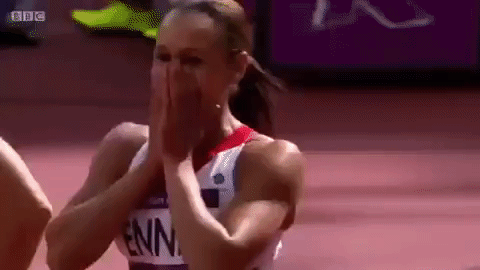 Jessica Ennis-Hill is the British three-time world champion heptathlon hero who took gold in the London Olympics 2012 and became a national treasure.
Just to clarify what a heptathlon involves, it is a series of seven events that take place over two or three days. These events include high jump, javelin and various short running distances. Basically, you have to be a pretty well-rounded, incredible athlete to do it.
After London, Jess took some time out for the birth of her baby, Reggie. She returned to the Rio Olympics 2016 with a lot of expectations to defend her gold status, but walked away with silver.
Pregnancy does a lot of crazy but wonderful things to a woman's body, and anyone who even attempts a heptathlon just over a year after giving birth and juggling motherhood with training, is a gold winner in our eyes. The whole nation probably agrees with that.
It's time you started celebrating your period, guys. Sign up to bettybox RN and get all your tampons and pads, beauty products, sweet treats and loads more cool stuff delivered to your door, every single month. We know. It's totally awesome. 
Image: Getty/Katie Edmunds