It's been a long ol' 11 months of blood, sweat, tears and furiously trying to learn your French oral presentation about all the fake pets you had, have, and will have in future. But, friends, the time has come: SUMMER IS HERE.
No, you don't have to tell us in French what your plans are for the next six weeks. Mostly because, let's face it, you haven't got a bloody clue what you're going to do in English, let alone French. Your friends are all helpfully going on their family holiday at the SAME TIME, you've run out of stuff on Netflix to watch without going deep into the weird documentaries, and if your parents tell you to "tidy that state of a room if you're that bored" once more then you'll pack that state into a bag and go and live at the end of the garden.
So, we've collated a bunch of cheap ideas to help you bin the boredom this summer. Repay us in Soleros.
Yes, it costs £30 for a year (£70 for three) BUT your third off (off-peak) rail fares will soon make it a worthy purchase. Get yourself to the beach, or go and explore a new town. You're only 16-25 once! … Or 10 times?
2. Enjoy the outdoors!
If you have a park nearby, USE IT. Have a picnic, read, gossip with friends, go for a chilled walk, play a bunch of games. The opportunities are endless, even if it's not sunny. Don't rely on the sun for a good time. C'mon, it's the UK.
3. Lay on your own festival
If you don't have a park but you (or one of your pals) have a garden then USE THAT INSTEAD. You can organise your own festival (because damn those real ones are expensive) with loads of different playlists, facepaint, glitter, tents, and disposable BBQs. Much cheaper. Maybe just warn your neighbours first.
4. Look for restaurant offers… or say it's your birthday
Restaurants don't have to be expensive. So many decent chain restaurants have their own rolling offers on their website, or they're involved in offers with Tastecard or Gourmet Society, etc.
Or just say it's someone's birthday, tbh. You might get free dessert.
5. Have a cinema marathon at home
Ok, so sometimes the weather is just too bad for the outdoors. Instead, each of your friends can bring over a film that none of the others have seen and you can have an all-night marathon, just like they do in the fancy cinemas. But with more pizza.
6. Take up a new hobby or skill
You know on The Sims where they can learn a new skill and the little blue bar goes up as they learn, and it's really satisfying? Well, do that on yourself! Use the free time to learn something new. Try a new sport, learn to cook new meals, learn how to code or use html, or just finally learn how to do French plaits on yourself, damn it.
7. Sign up to audience websites
SRO Audiences, Applause Store, Lost In TV, and BBC Shows all offer free tickets to be in the audience of your fave shows. Bargain night out! If you're a film buff then sign up to ShowFilmFirst, too. They offer free film tickets to films that haven't even come out yet. What a privileged little sausage you can be, eh?
8. Create your own self-care project 
We've already given you our beginner's guide to self care, and practicing it can be even more important in the summer when you can get bored, think too much, struggle with body image, and feel quite lonely. We totally get it. So, write down just one thing you're going to do each day to look after yourself. Do your nails, make your own bath bombs, read for an hour with no social media distraction. Anything.
9. Take on one of #100days tags
Scrolling through social media doesn't have to be aimless. Find one of the many #100days tags on Instagram or Twitter, do it, and stick to it! It'll do you good to achieve a little goal every day, and it'll keep you happy and motivated too.
10. Be a tourist where you live 
You don't have to travel to experience new things. Go for long walks around your town and go down streets you've never even noticed before. You could make it into a photography project or take everyone on Instagram stories with you. You'll be surprised how much of your hometown you don't actually know.
11. Volunteer!
Volunteering is underrated. Charities and your local community are always looking for people to help them out, and they all have different roles. Sometimes you don't even have to leave your bedroom! Have a look on do-it.org to find the best role for you. Help others and feel good at the same time. Win/win.
12. Have a charity shop fashion day
Speaking of charity, charity shops have some serious steals for way cheaper than your high street stores. Go out with your friends and play the 'who can find the best outfit for the cheapest price' game. We feel a changing room Insta-montage coming on.
13. Get active and go to parkrun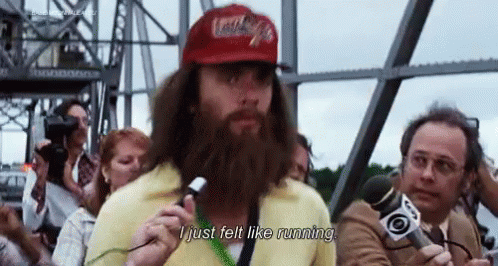 The brilliant parkrun organises free 5k runs every Saturday morning all around the UK. Once you've been to one, you'll be obsessed. Trust us. The community and encouraging spirit is SO GREAT. You'll get fit, make friends, and tick off number six on this list too.
14. Give your room an overhaul 
Spring cleaning doesn't just have to happen at the start of the year. A tidy room is a tidy mind, as they say, and you could turn a clearout into redecorating your room, adorning it with Pinterest projects… or just moving your bed to the other side. You'll feel so prepped for the next school year with your room fresh and fancy, we promise. Maybe your parents had a point…
15. Plan NEXT summer 
Right, so you're skint, underprepared, and all the summer jobs were gone by the time you looked. That's fine. So how about you plan for NEXT year? Set some goals. Plan what you want to do, whether it's travel, write a book, get a job, and put a plan in action for it. The best plans don't just happen, they take a lot of work (and maybe a few beautiful journals). Chop chop, you've got a bangin' future to create.
It's time you started celebrating your period, guys. Sign up to bettybox RN and get all your tampons and pads, beauty products, sweet treats and loads more cool stuff delivered to your door, every single month. We know. It's totally awesome. 
Image: Pexels