Feeling frustrated by the mainstream? Excluded by the cool kids? Want to shout, loud, and carve your own unique path but still feel safe and celebrated by everyone around you? Then babe, you need Riot Grrrl.
What actually was Riot Grrrl?
If we want to talk about Riot Grrrl music, we have to talk about punk first. In the late 1970s and 80s the world was forever changed by the arrival of punk rock and introduction of iconic bands like The New York Dolls, The Clash and The Slits. The phenomenon of punk culture spread around the globe, and created a thriving community of fans who felt, for the first time, like they truly belonged to something.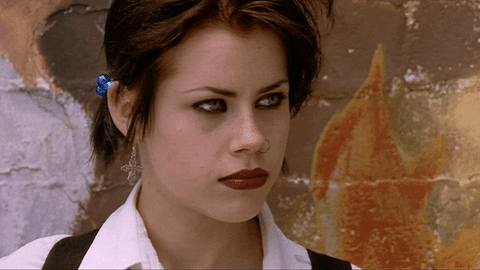 A few years after punk's heyday, in the late 80s and early 90s, a new underground movement of DIY and grunge bands (Nirvana being the most famous) made fans around the world take notice. This alternative to mainstream pop culture was exciting, but it had problems – the scene was less than kind to minority fans, like women and LGBTQ people. Although they were fans just like everyone else, shows were often unwelcoming places where sexism and assault ran rampant.
So faced with feeling unsafe at gigs and being pushed out of a movement that was becoming a lad-fest, a few women went on to form their own radical and inclusive space on the scene – and become icons in their own right…
Who are we talking about then?
You can't really talk about riot grrrl without mentioning two bands – Bikini Kill and Bratmobile.
Kathleen Hanna, Tobi Vail, Kathi Wilcox and Billy Karren found each other in Olympia, Washington and began creating fanzines together – one zine was titled 'Bikini Kill', and with that an iconic band was born. And in 1991 Bratmobile was born, when members Allison Wolfe, Molly Neuman and Erin Smith started the band without knowing how to play a single instrument between them (how fab is that?).
On August 20, 1991 members of Bikini Kill, Bratmobile and 15 other female-fronted bands took to the stage in Olympia for 'Love Rock Revolution Girl Style Now', a show that opened the cult festival International Pop Underground Convention… and marked the real beginning of Riot Grrrl.
What did they stand for?
As the movement grew in the US, bands like Huggy Bear (who called themselves 'Girl/Boy revolutionaries') and Skinned Teen formed in the UK, with similar feminist and DIY approaches. The great thing about Riot Grrrl was that the bands themselves didn't necessarily have a similar sound, but shared the same attitudes – they wanted to create safe spaces for music fans who had previously felt left out or threatened at live shows.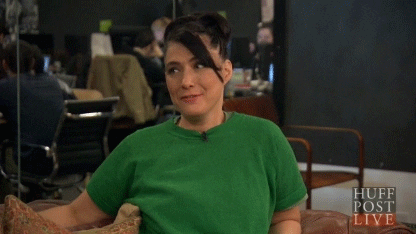 In a flier from the period, Bikini Kill summed up what they wanted to achieve:
"BECAUSE we girls want to create mediums that speak to US. We are tired of boy band after boy band, boy zine after boy zine, boy punk after boy punk after boy… BECAUSE we need to talk to each other. Communication/inclusion is the key. We will never know if we don't break the code of silence… BECAUSE in every form of media we see us/myself slapped, decapitated, laughed at, objectified, raped, trivialized, pushed, ignored, stereotyped, kicked, scorned, molested, silenced, invalidated, knifed, shot, choked and killed. BECAUSE a safe space needs to be created for girls where we can open our eyes and reach out to each other without being threatened by this sexist society and our day to day bulls**t."
The highs and lows…
For such a political musical movement, riot grrrl received a lot more attention from the mainstream media than any of the bands were ready for. Often the media didn't take their music seriously, focusing instead on the looks of individual band members. The spotlight got a little too hot for some, and it was a level of scrutiny the bands weren't always able to deal with…
The influence of Riot Grrrl to this day
Although by the mid 1990s the term had fallen by the wayside, the badass feminist spirit of riot grrrl lived on. Former riot grrrl band members Carrie Brownstein and Corin Tucker formed Sleater Kinney, one of the most well-respected rock bands of modern times, and Kathleen Hanna had found success with the amazing Le Tigre.
Meanwhile bands like Perfect Pussy, The Tuts, Cherry Glazerr and loads of others are influenced by the riot grrrl movement. London punks Skinny Girl Diet are especially protective of the term, calling it a 'movement, not a fashion fad'.
And although there can still be an unwelcoming atmosphere at some live music events to this day, there are some amazing trying to change things. Girls Against was founded by a group of teenage girls after one of them was sexually harassed at a gig in Glasgow. They've established a brilliant grassroots movement to protect girls and other marginalised people at gigs, keeping the 'girls to the front' philosophy of riot grrrl very much alive.
"We are here for all victims of sexual harassment, regardless of gender. We realise that men can be victims, trans people can be victims, and anyone else of any gender identity/expression." – Girls Against
Looking back at riot grrrl, it really was a seminal time for women in music. The bands created a place for women and other minorities to feel safe, feel free and sometimes REALLY angry. Their dedication to self-expression is something that you can't help but admire.
I want to be a riot grrrl! Where do I start?
With the music, of course. Here's our playlist.
It's time you started celebrating your period, guys. Sign up to bettybox RN and get all your tampons and pads, beauty products, sweet treats and loads more cool stuff delivered to your door, every single month. We know. It's totally awesome. 
Image: Bikini Kill via Getty