Ahh, Friday. Rebecca Black's song Friday may have been the worst song of all time, but we can't really blame her for writing a love song to this majestic day (if you don't know it, you can listen to it here – sorry and you're welcome).
Friday, the day when everyone asks, "What are you doing this weekend?", the day where the final bell rings and you silently (or not so silently) let out a cheer, the day when you know you have two entire days of freedom stretching before you.
To help you greet Friday right, here's everything we've been reading, loving and doing this week.
You, Tuber?
Think you're the next Zoella? You might want to sign up to the Tubers Academy, a school for aspiring YouTube stars. The Times reported that the classes cost £79 a month for two hours of training a week. The bad news is they're so oversubscribed there's already 150 wannabe vloggers on the waitlist. The founders are realistic about how many of their 38 mini-tubers (under 11) and 42 tubers will go on to be YouTube famous, but at the very least they'll be able to add editing, filming and video production to their CV.
Girls are skipping school for a devastating reason
Girls in Leeds are skipping school when they have their period because they can't afford sanitary products, Buzzfeed has reported. A campaigner for Freedom4Girls was contacted by a concerned police officer in Leeds who had noticed a pattern in when girls were skipping school. Sophie, a 16-year-old pupil in central Leeds said she'd missed "weeks" of school because she couldn't afford pads, and sometimes resorted to using tissues or socks. If you want to help, why not donate some sanitary products to The Homeless Period?
Lion's share of ink
This week in slightly surprising celebrity news stories, we learned that Ed Sheeran has more tattoos than most people have… look I don't know where I was going with the analogy, it turns out Ed Sheeran has 60 tattoos and I can't think of a single thing I have 60 of. Basically, he has a lot. 60 is a lot.
Popsugar have shed some light on what some of his many, many tattoos mean. Apparently, he has an enormous lion on his chest that he doesn't care if people hate, a three leaf clover for his grandpa on his arm and a portrait of a mother and child for his mum. Ed also has a tattoo pretty much everywhere he's been on tour – some of which make sense, like a Koala for Australia and a maple leaf for Canada, while others are downright bizarre, like the Heinz Tomato Ketchup logo for Ohio (?!). Ok Ed.
Five going on thirty
There's great news for the laziest among us – it turns out the three second rule is a real thing! Not only that, but it turns out in loads of cases we could have dropped our food, watched an episode of The Big Bang Theory, painted our nails and had a fairly long WhatsApp exchange over whether or not it would be weird for Kaley Cuoco and Johnny Galecki to be exes in real life but married on the show and THEN come back to pick up our food and it wouldn't have made even the slightest bit of difference.
Refinery 29 reported that according to researchers at Aston University, so called 'rigid' foods such as dry toast or biscuits have a half hour window before any additional bacteria will take advantage of them. Cancel all your plans; there are a lot of dropped cookies to make up for.
P.S. But for reals, Kaley and Johnny don't seem to find their exdom awkward at all. This week she posted this Instagram of her husband and Johnny cuddling on the sofa.
Pixar visits the Land of the Dead
The trailer for Pixar's new animated film, Coco, is here and as per usual, after watching anything Disney-related, our hearts feel just a little bit lighter. The new animated film is meant to be "a love letter to Mexico". The film is about a boy called Miguel who is transported to the Land of the Dead when he touches a dead musician's guitar. Our hearts, they ache.
God save the Queen('s sister)
If you wish you could have changed the ending for Gilmore Girls reunion, we have good news for you – in the future, you might be able to. Netflix are developing new interactive technology that would let viewers choose how the plots of certain television shows unravel, similar to the Choose Your Own Adventure style books you used to read as a kid.
While the Daily Mail were trying to put Princess Margaret's love life to rights, we're hoping that this way we could bring Sookie back for more than that one scene right at the end.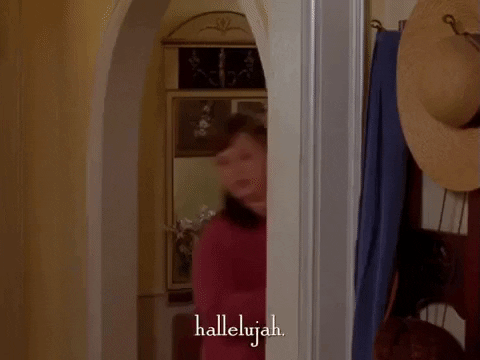 Happy Friday!
It's time you started celebrating your period, guys. Sign up to bettybox RN and get all your tampons and pads, beauty products, sweet treats and loads more cool stuff delivered to your door, every single month. We know. It's totally awesome.