If you're good at keeping up to date with the internet's current obsessions, then you've probably already heard that mermaids, unicorns and pineapples all need to make way for the 'bullet journal'.
Eh? A bullet journal? Is this like Regina George's Burn Book, only a whole lot more badass and slightly alarming? Um don't panic, not quite.
Bullet journals are literally EVERYWHERE right now, and if you're the kind of human who functions by relying on a million different to-do lists, writing everything down, crossing everything off and doodling yourself into oblivion, then you need to listen up.
Before you dive headfirst into the world of bullet journaling and get lost in a haze of 'future logs', layouts and dreamy drawings, we're gonna get stuck in with a quick #BuJo 101.
Here's everything you need to know about bullet journals, and why they're gonna change your life.
Rewind. What even is a bullet journal?
In a stationery-loving nutshell, a bullet journal is a kind of to-do list/diary hybrid. On a basic level, it's a way of keeping yourself organised, but thanks to some arty types on Instagram and Tumblr, it's also turned into a popular art project which sees people drawing, doodling and decorating their bullet journals into absolute stationery goals.
The original bullet journal relies on its own unique system of keeping organised, but if you don't fancy sticking to the rules then you can pretty much make up your own, to suit however your brain works best.
To sum it up nicely, you literally draw your own perfect diary; your own layout, your own structure and your own page set-up. If you're arty and creative, it can be the perfect personal project to practice your graphic design, colour combos, drawing and font skills.
And as the name kinda suggests, you make a record of everything in 'bullet' form – bullet points, simple symbols and quick notes – so it's also great if you just want to take things back to basics.
Sounds good – but who is a bullet journal good for?
Guilty of having a million scrappy little to-do lists floating around your room? Work well with the motivation of crossing things off when you get them done?
Into setting yourself goals or tracking your habits? Always wanted a journal/diary but never remember to keep up with it? Basically just all kinds of obsessed with planners, stationery and cute notebooks?
If you answered yes to any of the above, you're gonna love bullet journaling. But, even if they don't sound exactly like you, there'll be a way of doing it that slots neatly into your day to day life.
And how do they work, exactly?
As we said earlier, there is an 'official' bullet journalling system which you can check out right HERE in a step-by-step video. It's quite simple to follow, but strict bujo-ers can sometimes chuck around terms that might not make much sense to beginners.
Here are a few examples to try and keep things as straightforward as poss:
'Bullet journal': Officially a method of journaling and note-taking which relies on using bullet points as its structure.
'Index': A contents page that you update as you go along with building your journal.
'Daily log': Your daily to-do list (and anything else you might wanna make note of that happened today).
'Monthly log': A traditional monthly calendar, with a record of everything you need to do in that month, or anything you forgot to do LAST month.
'Rapid logging': This is the key code of symbols that traditional bullet journals follow.
'Future log': A year-at-a-glance calendar for upcoming events, holidays, goals and long-term stuff.
Embed: https://www.instagram.com/p/BNKO9sEjHU5/?taken-by=my_bulletjournal_journey
Alright, so where do I get one?
There's no specific 'bullet journal' that you can head out to the shops and buy ready-made. That kinda defeats the point. You can use ANY notebook to set up your bullet journal, but if you're planning on using this thing every day then you need to keep a couple of things in mind.
If it's too big, it won't fit in your bag and you'll just sigh ALL the sighs when it comes to carrying it around. If it's too small it won't work either, and it needs to be pretty robust to keep up with going from place to place.
Popular brands for bullet journaling are Moleskine and Leuchtturm – both which offer a grid layout which makes it super easy to design your own system.
What are the symbols all about?
It's totally up to you to figure out a symbol key that you'll actually stick to. You could do tick boxes, colour-in squares or stars, and maybe even different symbols for holidays, parties and even your period due date.
However, the bullet journal system recommends trying out a super simple bullet point to-do list – hence the name. Ahh, it all makes sense.
When a task is complete, you write an X over the bullet. When a task has changed to a different day, write a > symbol over the bullet point. Use a dash for thoughts, notes or smaller things that are still worth writing down. Use an open circle for big events. Got it?
Choosing a layout that'll literally change your life
Okay, so this is where things can get sliiiightly overwhelming – because it's totally up to you to decide how you want to lay things out in your bullet journal, and the kind of pages that you'd like to include in your set up. Some ideas might work for you perfectly, and some might be totally pointless in your life.
It's a good idea to start with a key to your symbols on the front cover (just incase you get a bit too creative and forget what everything even means), followed by an index page. Just like a normal book index page, this'll then correspond to each page number in your journal to help you find things quickly.
#BuJo-ers then recommend going for a future log (your annual calendar for looking at events over the next twelve months). Once you've got that part down, you can start to get creative with all the cool stuff.
Personalise your journal to perfection
Once your yearly outlook is down on the pages, you can start to create much more fun and inspiring pages for big things that you'd like to track over time.
For example, a couple of popular ideas include a page to record all of the books you've read or want to read this year. How about all of the films or Netflix shows you've seen or want to see? Or a tracker for how much money you've saved up?
A mood tracker, a period tracker or a habit tracker? A brainstorm page for your blog post ideas or YouTube video ideas? A memories page for each month to help you remember the highlights?
You could literally do ANYTHING. Remember that it's totally up to you to design a layout that you'll love. If you stumble across a page idea that'll suit you perfectly, pop it into your journal. Similarly, if it sounds rubbish to you, don't bother including it.
Then comes the monthly and daily stuff
You're basically zooming in on your to-do lists on each page for maximum organisation levels. It might be nice to next have a page or two for a monthly planner – maybe one page as a monthly calendar, and the opposite page as a monthly tasks page.
But obviously, it's important to remember that this is YOUR bullet journal – so you can set things up however suits you best. Rather than a monthly tasks page, you could have a monthly memories page or a monthly gratitude page. Just jot the dates of the month down the left hand side, and next to each number, write something you've been thankful for every day. Pretty cute, right?
And last but not least, your daily stuff. Instagram and Pinterest are a complete goldmine for finding #bujoinspo when it comes to layouts, and there's so many different styles to try. Remember that each month doesn't have to be the same – you can mix and change your layout as you go along and learn what works best for you.
You just need to create enough space for each day to record however much information you want to record, whether it's a simple to-do list or a few notes on what you've been up to each day.
Don't panic if you're feeling the pressure
Although this MEGA long guide might make it sound absolutely terrifying (soz, we tried), bullet journaling absolutely does not have to be something that takes a lot of time. You can literally just use it as inspiration to get into the habit of making monthly, weekly and daily to do lists, or stealing the symbol system for your school notebook to help you feel less stressed.
Just don't overthink it. The pressure of putting a pen to a brand new, shiny notebook is always a bit stressful. Before you start drawing out your journal, try drafting a plan first on some scrap paper to make sure you've got a vague layout sorted.
On the other hand, you can turn it into a super relaxing, lovely mindfulness exercise. Tons of guys and gals who struggle with their mental health have pointed to bullet journaling as something that's been seriously beneficial to keeping their anxiety or depression at bay. Spending fifteen minutes each evening on your journal rather than sitting on your phone can be a total miracle worker for unwinding and de-stressing.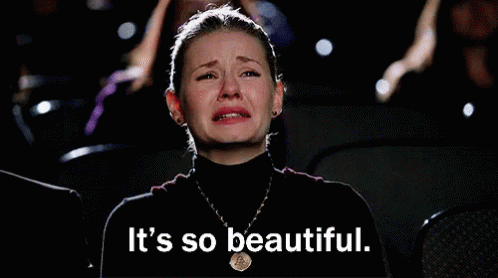 So there you have it. Get creative, get organised and welcome to the wonderful world of #BuJo.
It's time you started celebrating your period, guys. Sign up to bettybox RN and get all your tampons and pads, beauty products, sweet treats and loads more cool stuff delivered to your door, every single month. We know. It's totally awesome.