Right, so Glastonbury begins today.
You've probably seen the adverts on the BBC, or heard DJs chatting about it on Radio 1 and 1Xtra. Glasto, otherwise known as Glastonbury Festival of Contemporary Performing Arts (what Lily Allen, but literally nobody else, insists upon calling it), is kicking off next weekend. In short, it's basically The Best Festival In The World.
Why is it so great?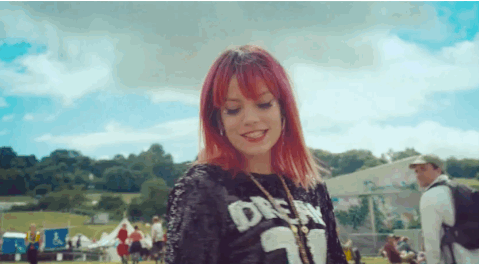 Glastonbury kind of started it all. The Isle of Wight and Reading festivals technically got there first, but Glastonbury wins over them because, for five glorious days a year, a city the size of Manchester pops up in deepest Somerset that is entirely dedicated to having fun.
Awesome. Why does it exist?
Glastonbury started in 1970, when dairy farmer Michael Eavis (he's still alive, and drives around in a red Range Rover. People go *wild* when they see him) decided to let 1,500 people onto his land for the princely sum of £1 each, which included as much free milk as you could drink.
Since then, there have been 46 Glastonburys, and each one gets bigger and, usually, better. All sorts of stuff has gone down in Glastonbury legend.
The less-good includes the Battle of Yeoman's Bridge in 1990, when members of the travelling community and security guards had a massive fight. But there is far more of the brilliant: such as Beyonce and Adele re-inventing what it meant to play at the end of the night on Glastonbury's biggest stage, the Pyramid, otherwise known as headlining. There are still far too many men doing this. But I digress.
What makes it better than every other music festival?
For one, Glastonbury is the spiritual home of the hippies. Some believe it is built on land that has magic powers, and there is an entire section of the site called the Green Fields which is dedicated to alternative therapies – such as 'gong baths'. On the Wednesday night, you can go and join 60,000 thousand people and a druid in welcoming in the elements.
Whether you believe in them or not, there's a sense of peace and harmony that filters throughout the whole festival. Combined with the fact that everybody's just so chuffed to have got a ticket – they sell out very, very quickly – the vibes, shall we say, are good.
But beyond that, there's just so much to see and do. You can spend an entire day hanging with acrobats in the Circus Field, or dance until dawn in a secret girls-only club that you can only access through a nail salon (as fun as it sounds). If you just want to sit at the Stone Circle, listen to strangers play the bongos and survey the sprawling beauty of the festival, that's cool too. From dawn until dusk and then dawn again, there are always hundreds of mind-blowing things to find at Glastonbury.
What do people wear?
Unlike Coachella or V Festival, Glastonbury attracts a lot of different types of people. And there are 175,000 of them, so there's no one Glastonbury style. You will see grown men dressed in gold ballgowns, and old ladies with pink hair. Generally though, practicality reigns: most people arrive on the Wednesday and go without a shower until when they get home, on Monday. There's also, famously, a lot of mud.
With that in mind, denim shorts, wellies and shades in the style of the summer (last year it was John Lennon steel-rims, this year I anticipate more extravagant plastic efforts) are obligatory. As is a sensible jacket: Glastonbury was where the Barbour became cool again, but faux fur, trenches and velvet coats have all been seen backstage. There are also a fair number of sparkly dresses hiding under those pac-a-macs, and bum-bags or rucksacks are a must – after all, your hands need to be free for waving in the air.
The A-List nature of Glastonbury means that the festival's style has been defined by the likes of Alexa Chung, Kate Moss and Cressida Bonas, all of whom are regulars. But the main tip? Don't look like you've tried too hard.
I can watch some of this on the telly, right?
Yep. The BBC are streaming continuously on their website and showing 30 hours of footage through iPlayer and BBC Two and BBC Four, so you can practically pretend you're there.
The most exciting things this year are the return of Lorde, who is playing the Other Stage at 8.45pm on Friday; Katy Perry, who will be showing the (suspiciously male-dominated) Pyramid Stage how it's done on Saturday at 6pm, and Ed Sheeran, who is headlining the Pyramid Stage on Sunday night. Not bad considering he made his debut on the festival's smallest stage just six years ago.
It's time you started celebrating your period, guys. Sign up to bettybox RN and get all your tampons and pads, beauty products, sweet treats and loads more cool stuff delivered to your door, every single month. We know. It's totally awesome. 
Image: Getty