Welcome to the first week of May! Which means the Met Gala, an miserable amount of drizzle and a bank holiday. Yeah, it's a really mixed bag, isn't it?
But at least while we've been stuck inside, we've been able to scroll through the amazing outfits and gasp as Jayden Smith rocked up holding his own cut-off dreadlocks as if they were a Venetian fan. Anyway, more on the fashion craziness in a moment – here's everything we've been doing, loving and reading this week.
Ed Sheeran is cameoing in Game of Thrones
Um, wait, what? Apparently, he's a huge GOT fan and they've been trying to get him involved for ages. We don't know many details, but Buzzfeed is reporting that he'll be singing to Arya Stark… because sure, why not, nothing says 'Friday night in King's Landing' like a rendition of Galway Girl (guys, do yourself a favour and check out the video ASAP, its hilarious).
Luckily, we won't have to wait long to find out what happens – season 7 kicks off July 16!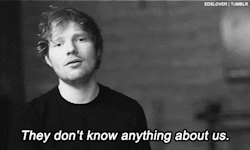 This photo of black students at Cambridge University is going viral
This photo of 14 students from Cambridge University has been liked more than 5000 times on Facebook, and for a good reason. In 2015, only 15 black, male undergraduates were accepted to the university (and just over 1% of the total intake for 2015/16 were black), and so the group decided to pose for the photo to encourage more young black men to apply to the UK's most elite unis, Oxford and Cambridge.
Speaking to Buzzfeed, one of the guys in the photograph, 19-year-old Donte Nembhard commented: "Yes, it is very difficult to get where we are, but we did it. Why can't you?"
In 2015, only 15 black, male undergraduates were accepted into Cambridge. However, it is important that despite their…

Posted by Cambridge ACS on Monday, May 1, 2017
The first Monday in May
If you've been on social media this week, or actually just opened your eyes, you'll probably have seen this picture of Rihanna.
Ri-Ri's really stepped up her kooky outfit game recently (remember Coachella?). But kooky dressing is sort of the whole point of the Met Gala, the annual fundraising event to raise money for New York City's Metropolitan Museum of Art's Costume Institute. This year's theme was: 'Rei Kawakubo/Comme des Garçons: Art of the In-Between', which are words I still haven't really worked out the meaning of tbh, but boy did the celebs deliver. Our fave outfit of the night goes to Cara Delevigne who rocked this Chanel jumpsuit and a shaved silver head like it was 2087.
Blake & Ryan are #couplegoals
Speaking of the Met Gala, the ultimate celeb couple were there. Obviously, they both looked impossible glamourous and beautiful. But it was the quote that Reynolds gave to Humans of New York, the photographic Facebook account, that had us weeping into our keyboards. May we all find someone who talks about us the way Ryan talks about Blake. You make US better people, guys.
Let's all be more Priscilla
When you work up the courage to ask someone to prom and they reject you, most of us would have a little cry in the loos, moan to our friends about how we're going to die alone, and then hopefully brush it off and go solo. But our Shero of the Week Priscilla Samey took it one step further.
When she realised she was going to be going stag to the prom, she decided that there was nothing she'd rather go with than her acceptance letter to Harvard. After all, who needs a real human date, when you can have an acceptance letter to one of the most prestigious universities in the world? Footnote: she could have also bought her acceptance letters from five other top US universities – but hey, even the sassiest of us have our limits.
Couldn't find a man to accept me for prom so I took a college that did #Harvard2021 #prom2k17 💕🙏🏾 pic.twitter.com/vIw2524wXu

— • (@prizxillas) April 30, 2017
Adele is really rich
PSA: Adele is really rich. In fact, she's the richest solo female artist in the UK. To be more specific she's £125m rich. Which is super rich. But she's still super normal and cool and we still love her. That is all.
Pretty Little Liars Recap 
Right, ok. This episode it was Hanna's turn to play End Game. Let's just take a moment to reflect on the mannequin, which was so freaking weird. But it wasn't nearly as weird as Hanna standing in the kitchen wearing washing up gloves and an apron trying cutting the doll open to find a bag covered in fake blood that had a Japanese dress in it. Hanna was meant to wear the dress to a meeting with some of the investors in her fashion line who were all Japanese, and would have probably been pretty pissed with the way she was appropriating their culture. But (luckily? unluckily? IDK) she never made it to the meeting because during his attempts to work out how End Game worked, Caleb got sprayed with some mysterious gas that almost killed him.
Argh, I love the writers of this show so much, it is so ridiculously wonderful. Aria and Emily went into full on stalker mode and followed one of Jenna's minions, Sydney, to try and work out more about A.D. and how Jenna is involved. In Ezria news, Nicole emerged from nowhere (literally) so we might finally get to know a little bit more about her, which feels like meeting someone you're friends with on Facebook, but have never met IRL. Spencer and Marco finally went on a date, but I get the feeling that their romance is going to be short lived, especially in light of the final moments of the episode. After Yvonne woke up from her coma, she and Toby decided to get married, and then almost immediately after they said 'I do', she just, died. Which is sad, because RIP Yvonne, but also, long live Spoby?
It's time you started celebrating your period, guys. Sign up to bettybox RN and get all your tampons and pads, beauty products, sweet treats and loads more cool stuff delivered to your door, every single month. We know. It's totally awesome.