Step away from the delicate flats, put your denim jacket into hibernation and track down the most duvet-ish pyjamas you can find, because we're officially in sleepover season.
We're all in agreement that this is the best time of year, right? You're constantly crunching through orange leaves, pulling together your Christmas present wishlist, and pumpkin spice lattes are your main source of energy. But hold up on planning your festive party for just one sec, you've got the ultimate sleepover to plan first.
Get your best pals round for the night and cosy up with these movies, snacks and DIY hacks that'll make it the cosiest evening ever.
Magical movies
Practical Magic
Straight outta the 90s (because actually, the 90s is a goldmine of dreamy made-for-autumn movies), Sandra Bullock and Nicole Kidman are sisters who happen to be pretty talented in the art of practical magic.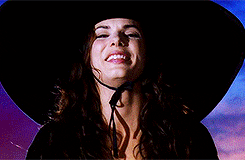 But while their sorcery skills might sound amazing, they also come with a curse, as any man the sisters fall for seems to meet an untimely death. Cuddle up with your cauldron for this one.
Hocus Pocus
If you've never seen Hocus Pocus, it's the perfect mix of dark, spooky moments and brill Disney comedy. After three whole centuries, the three Sanderson witch sisters are brought back from the dead on Halloween night.
It's up to two teenagers, a young girl and an immortal cat to stop them from taking over the town, but luckily there's always time for a sassy musical number half way through.
Casper
Did you know that Casper is the first ever film to have a fully CGI character in a leading role? Fact, but anyway, the October adventure kicks off when paranormal expert James and his daughter Kat find themselves living in an abandoned mansion.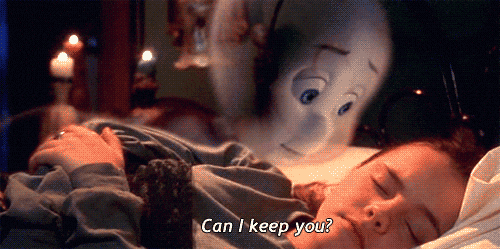 But it almost goes without saying that their new house is haunted – by three not-so-welcoming ghosts, and of course one friendly one who you're probably gonna fall in love with.
You've Got Mail
Maybe not the most obvious choice, but Tom Hanks and Meg Ryan classic rom-com is guaranteed to get you in the autumn mood without one single mention of a witch or wizard.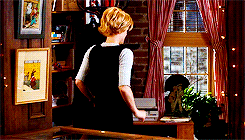 It features some perfect shots of golden Manhattan, an actual fall festival and a super cosy book shop that'll make you wanna grab all of the nearby blankets and do some serious snuggling.
The Craft
If you'd been having your autumn sleepover twenty years ago, The Craft would have been top of the must-watch list. Sarah ends up falling in with the outcasts at her new school, and with her as their 'fourth corner', the squad start their own supernatural coven.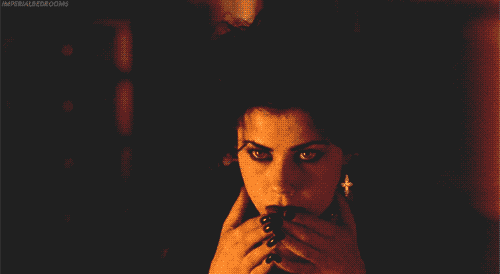 It doesn't take long before the girls are exacting revenge on anyone who dares to cross them, but the spells soon start to get out of control and things get kiiinda scary.
Harry Potter
Wait, surely you know that you can't have a cosy, autumn hang out without watching at least one of the Harry Potter films?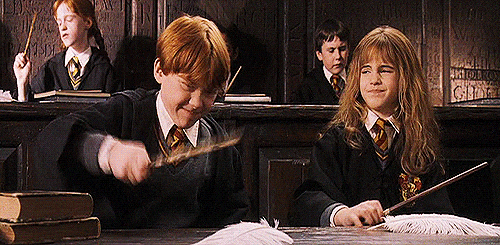 Pick your fave of the eight, start pumpkin carving, grab a chocolate frog and you'll be ready for Halloween in no time. Just remember that it's LeviOH-sa, not Levio-SAH.
Scrummy snacks
Rice Krispie pumpkins
Snap, crackle and pop your way into spooky season with these seriously cute snacks. They're easy to rustle up too – just turn your cereal bright orange, combine with melted marshmallow and add a mini Rolo right on the top for the perfect midnight snack.
Get the recipe for these here.
Pumpkin spice latte
You've probably seen them all over Instagram in all of their frothy glory, but why head out into the cold when you can make 'em for yourself at home? We'll take ours with extra squirty cream, please.
Get the recipe for these here.
Halloween pretzels
When it comes to sleepover snacks, you'll want to opt for something that looks AWESOME but requires almost zero effort. This trio of Halloween-themed pretzels are perfect with teeny tiny mummies, pumpkins and zombies to scoff on. Tasty, and only a little bit terrifying.
Get the recipe for these here.
Acorn doughnuts
Looking for a recipe that's more on the cute side of things than creepy? Even Mother Nature would be impressed with these autumn-inspired bites, which turn your average doughnut into something much, much more Instagrammable thanks to a chocolate topping and sugar sprinkles.
Get the recipe for these here.
Apple pie popcorn
It goes without saying that you're gonna need to stock up on the popcorn for your party, but why not give it an autumn/winter taste twist, too? This genius recipe loads up your usual popcorn with bonus melted caramel, white chocolate, apple and cinnamon. We're dribbling just thinking about it tbh.
Get the recipe for this here.
Cosy crafts
Flameless fire pit
Every classic teen movie features a sleepover around the campfire that's absolute goals, but it's not always the best idea in soggy ol' England. Stay warm and keep your aesthetic on point with this creative and cosy no-flame fire pit. It's literally just fairylights and fake twigs, but looks SO perfect.
Find out how to make this here.
Watercolour leaf hanger
On the hunt for an idea or two that'll transform your bedroom? One of the easiest ways is to bring the outdoors inside, and this watercolour leaf hanger is a crafty way to do just that. All of the warm colours and fiery shades will mean instant autumn vibes.
Find out how to make this here.
S'mores station
Really wanna go all out to impress your pals with your special autumn sleepover this year? Nothing will work better than melted chocolate and squishy marshmallows. As we said earlier, campfires aren't always the most reliable in our lovely British weather, so why not set up a DIY S'mores station instead? You could even make cute seasonal decorations for it.
Pastel pumpkins
Carving pumpkins always seems like a good idea at first – until you're up to your elbows in squishy, weird-smelling goo and you're still finding seeds in strange places one whole year later. These pretty pumpkins have had a Tumblr makeover with pastel colours and some snazzy puns – so we guess technically that would make these PUN-KINS…
Blanket fort
And last but not least – a million blankets, every single pillow in the house, a sprinkle of squishy cushions and a whole heap of flickering candles (fake, battery-operated ones obviously – no real flames please) are all you need to construct an unstoppable blanket fort. Everyone knows that cosiness officially peaks with a blanket fort.
So there you have it, the essentials for any autumn sleepover. Just no one mention Christmas yet, okay?
All snack and DIY image credit: Pinterest
It's time you started celebrating your period, guys. Sign up to bettybox RN and get all your tampons and pads, beauty products, sweet treats and loads more cool stuff delivered to your door, every single month. We know. It's totally awesome.