We all know that relationships rarely play out like they do in the fantasy movies we grew up with. I mean sure, sometimes a knight in shining armour might be willing to take you to the cinema or buy you some ice cream. But rarely will he fight off a dragon for you AND buy you a big, pimped out castle at the end of it all.
It's as though we're brainwashed from a really, really young age to believe that while crushes and love and relationships can be tricky and dramatic things, don't worry, they'll all end with a golden, shining Disney-worthy 'Happily Ever After'. But that's not how it works. Like, ever.
So to celebrate the normal, messy, sticky, happy, easy, arguing and boring-but-loving relationships that are much more real, we've collected together a bunch of our favourite movie relationships. The good part is they're still romantic, they're still nice to watch, they're still dramatic sometimes – but most importantly, they're not all dreamy, golden-hued and set in a fantasy land with two exceptionally good-looking straight people. Here's to love!
Adele and Emma prove that sometimes you do get that instant OMG-I'm-in-love magic moment when you first see someone. But you know what? No dramatic music played, no birds were singing, a halo of golden stars didn't circle around their heads. It was just a very real, a very genuine and a very normal moment that was ignited by such a special look.
After that, their relationship develops and brings up all of the tricky stuff you experience when you first fall for someone really, really hard. Not to mention it's Adele's first relationship with another woman, so you get to watch how that plays out. Their relationship is lovely at times, beautiful at times, messy at times, sad at times, but it feels so real that we just can't take our eyes off either of them.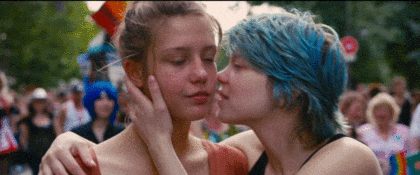 Even if you've never watched Dirty Dancing (you totally should, it's cheesy and ridiculous, but a classic) you'll have seen that iconic over-the-head lift from it played out time and time again, especially in the swimming pool or by some very cocky people on a dancefloor. You know the one, right? The guy stands still and the girl jumps up into his arms. (Please don't try it at home. Maybe just in water or on a very squishy bouncy castle.)
Dirty Dancing tells the musical story of Baby and Johnny, who fall in love at a summer holiday camp. Sure, it's hardly a super gritty, realistic setting, but what we like about it is that their story is filled with problems and questions and road bumps, just like normal relationships. But that's not to say you can't inject some OTT dance moves into your next romance.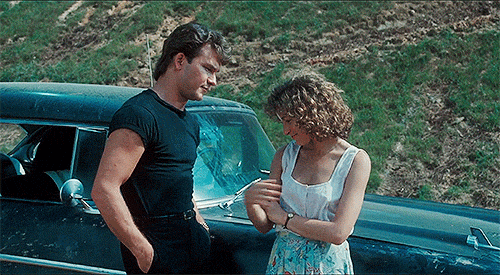 Speaking of crazy dance moves, one of our favourite ever rom-com scenes is in Crazy, Stupid Love in which Jacob (that's Ryan Gosling's character) tries to re-enact the iconic Dirty Dancing lift. We won't tell you whether he succeeds or not.
Jacob and Hannah's story is really interesting because they have to deal with a lot of stuff, like how they both acted in the past, previous relationships, family troubles and all of the things you're not 'supposed' to think about when you're filmically head-over-heels in love with someone.
Psst… If you enjoy shipping Ryan Gosling and Emma Stone, you obviously need to check out La La Land, where they're dancing with each other all over again. But with musical magic!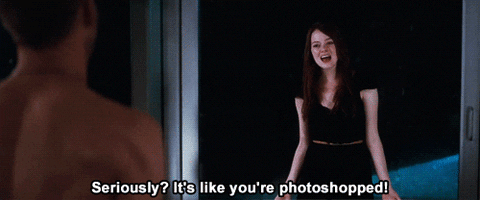 You know how there's always just a little bit of drama in Disney princess romances, like an evil step mum or a spiky spinning wheel thingy-ma-wotsit? Well, Slumdog Millionaire is an epic love story filled with challenges that are truly horrifying – but sadly a reality for hundreds of thousands of children growing up in the slums of Mumbai.
Not only does this make Jamal and Latika's timeless love story even more edge-of-your-seat dramatic, but when they finally meet again (and again and again) we dare you not to cry your eyes out. It's a tough watch in many ways, but proof that despite all kinds of hardships you can make it through. And hopefully meet up with your childhood sweetheart again at some point too.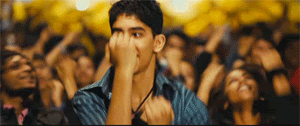 From the very beginning of the Harry Potter movies there's a special connection between Harry and Ginny. We like that because it's the way a lot of relationships develop. Slowly. Quietly. Over time. Sometimes even over many years.
As well as that, you'll often find you'll get crushes on people in unexpected places, like on your best mate's sister. And if you talk that through, it can be totally fine – or even magical.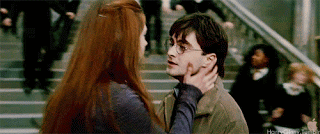 Katniss Everdeen and Peeta Mellark – The Hunger Games
Fine, nothing about The Hunger Games is realistic. But what does feel really real is the icky love triangle Katniss finds herself in with Peeta and Gale.
A lot of romantic films would have us believe that we clap eyes on someone and that's it. Done. We love them forever and ever and the alternative is a lifetime of heartbreak. But really feelings are a helluva lot more complicated. Like the fact it's totally possible to fall for more than one person at a time. Sure it's often a bit easier to figure out who you like the most when you're not also trying to save the world and lead a revolution, but it still happens.
Chiron and Kevin – Moonlight
Moonlight won Best Picture at the Oscars earlier this year (trust us – they checked. A lot), so it's a bonafide must-watch. Just make sure you have some tissues on hand, and whack on some waterproof mascara because it's a proper, beautiful heart-breaker at times.
This intense and powerful tale certainly doesn't unfold like a conventional love story. In fact the relationship with Chiron and Kevin is a million miles away from a dreamy romance, which is what has landed the movie such critical acclaim. Instead, it explores issues of race, family and sexuality throughout three powerful stages of Chiron's life.
Juno and Paulie/Bleeker – Juno
This laugh-out-loud movie is all about two high school friends who have to deal with an unplanned pregnancy, as well as their confusing feelings for each other.
Sure that might sound really bloody scary – and they both get really bloody scared at times – but it's great to see how two imperfect people can come together, accept responsibility and find a way to muddle through. It just goes to show relationships aren't always sunshine and rainbows or riding off into the sunset. Sometimes you're forced to face up to big, important, terrifying things. But you know what? You can always get through it, alone or together.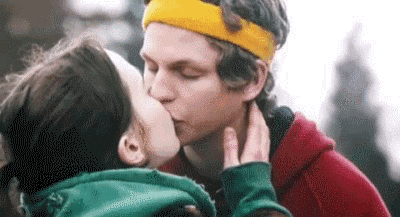 It's time you started celebrating your period, guys. Sign up to bettybox RN and get all your tampons and pads, beauty products, sweet treats and loads more cool stuff delivered to your door, every single month. We know. It's totally awesome.