So it's raining. It's always raining. I have been damp for three and a half days. And I know it's good because the rivers needed it and probably so did the grass and stuff, but ok, that's enough now. Right? Well, apparently not.
But it's all going to be ok, because here's a round-up to read which should kill five and a bit minutes! After that? Yeah, you're on your own. Probably Netflix.
Here's everything we've been doing, loving and reading this week…
Solange Knowles talks to her teen self, whole world listens
It can't always be easy having Beyoncé as your sister, but Solange Knowles is a study in grace and wisdom. Tbh, I'm not sure what to say about this letter she wrote for Teen Vogue other than please read it. Then read it again. Hell, print it out and stick it on your wall so you can read it every morning. Here's a taster:
"there will be pain, there will be doubt there will be beauty, there will be the unknown. there will be so many moments of joy and delight that the whole universe will feel painted in hues of amber and wonder. there will be times you are so sad you can't lift your head. and there will be times you are so happy that the sensation of life knocks you down. but most importantly, there will be you. a whole, whole lot of it. and you will feel good about who she is and who she is still becoming." Sol, you slay us.
Shorts, skirts, trousers? Oh, who cares?
At least 120 schools in the UK have now adopted gender-neutral uniforms according to Educate & Celebrate, a charity that helps develop LGBTQ+ training in schools. What does that mean? Well basically schools are allowing boys and girls to wear either skirts or trousers, whatever they choose, or they're creating an entirely unisex uniform from scratch. Heartwarmingly, loads of schools are doing this organically and with minimal fuss.
Paula Weaver, the headteacher of one of the first primary school to introduce gender-neutral uniforms back in 2013, said: "There's nothing special about gender-specific toilets and uniforms: children just need to be able to express themselves and if they feel comfortable, it's what clothes they feel comfortable in."
Ha. Take that gender roles.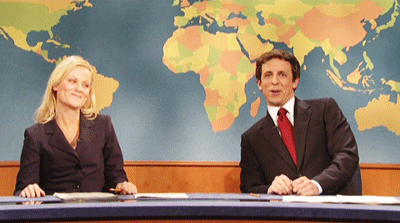 We're not playing around
At some point in your life, you'll probably have found yourself standing in a bathroom, looking down at your outfit, then looking at the loo, then back to your outfit wondering what the hell you're meant to do. And it's not because you've suddenly forgotten how to ride the porcelain express, but because fashion designers seem to have forgotten you'd ever have to. Playsuits, jumpsuits – or as Americans call them, rompers – are the enemy of the small-bladdered ladies among us.
But it turns out men want in on the action anyway. A new Kickstarter campaign called Romphim is trying to fund playsuits for men. They're collared and pastelled and no matter how many times I look at them, I can't help thinking they make fully grown men look like weirdly tall babies… but apparently that's just me because they've already raised more than 20 times what they were aiming for. Hey, let's all have equally frustrating toilet trips together!
Apparently bad liars make great singers
After having Harry Styles' album on repeat for an entire week, we've taken a small break to listen to Selena Gomez's has new single Bad Liar – and it's freaking awesome.
After Selena posted a teaser of a video where she's wearing a bracelet that reads 'Fall Risk' and a bandage on her arm, fans were speculating that her new single might centre around self-harm to tie in with 13 Reasons Why, the show she produced. But the photographer Petra Collins set the record straight in the Instagram comments, writing: "Selena came straight from the hospital to this shoot – from being there for lupus".
Selena, feel better soon. The betty team is sending you all our good vibes x
If you're having withdrawls
If you need some more Harry Styles in your life (we get it, you're only human), check out his Carpool Karaoke with James Corden to find out what it means to cry…but in a cool way.
Happy weekend! X
It's time you started celebrating your period, guys. Sign up to bettybox RN and get all your tampons and pads, beauty products, sweet treats and loads more cool stuff delivered to your door, every single month. We know. It's totally awesome.