There's a show you might not have noticed on Netflix. It didn't explode onto the screen like 13 Reasons Why or Orange is the New Black – it was released with only a small buzz. You've probably scrolled passed it a million times while you're bored on a Friday night and looking for something new to watch.
It's called The Get Down, a Netflix original series about the rise of disco and hip-hop in New York in the 70s. But on top of being an incredibly fascinating story, it deserved more hype since it was directed by one of the world's most celebrated directors: Baz Luhrmann.
But who even is Baz Luhrmann and why should we care?
The business of Baz…
Known for his theatrical, slightly surreal style, Baz Luhrmann was propelled to fame in the 90s and 00s with his 'Red Curtain Trilogy' of films, made up of kooky rom-com Strictly Ballroom, Shakespearean tragedy Romeo + Juliet and the musical Moulin Rouge – all of which are completely delightful (and feature red curtains on the poster, hence the name), and feature his signature moves: bangin' soundtracks, cartoon-like characters and totally dreamy sets.
Baz Luhrmann is also known for his extravagance. Despite never having met him, I imagine he's the type of man who would have peacocks in his garden and if he couldn't choose between two enormous chandeliers, would just shrug and say "Oh, I guess I'll just take both." He's the type of man who might sleep in velvet bed sheets and put on a fireworks display for his children's half birthdays, because why the hell not?
It's this decadence and opulence that makes his films so iconic. They look so beautiful that you find yourself completely incapable of looking away.
Wherefore art thou?
Most people first come across Baz Luhrmann at school, when an English teacher tries to tempt a confused classroom into understanding what Shakespeare was on about by popping on the dvd of Romeo + Juliet.
With Luhrmann's direction and taste, this remarkable retelling of the world's most iconic love story became even more dramatic and breathtaking.
Hand on heart, his adaptation is the only reason I like this play. Like, I'm sorry, these kids are objectively idiots and the plot is so absurd that when I read it at school for the first time, I didn't understand why everyone always made a big deal of it being, like, the epitome of romance. But then I saw Baz Luhrman's version of Romeo and Juliet and I got it. There are loads of films that adapt Shakespeare plays for modern times, (She's the Man, 10 Things I Hate About You, etc.) but few are able to make the story work in a modern setting and keep the original dialogue without it even once getting boring. That's the genius of Baz Luhrmann.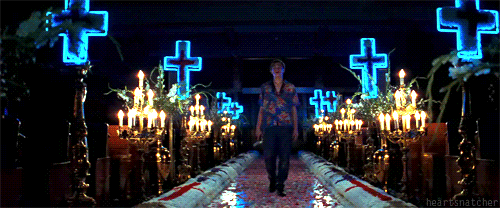 The ultimate film FOMO
In his glitzy 2013 adaptation of The Great Gatsby starring Carey Mulligan and Leonardo DiCaprio, Baz Luhrmann transformed the classic book by F Scott Fitzgerald into another quirky masterpiece full of colour and decadence.
But like so many great artists, he also has an amazing squad around him – especially his wife Catherine, nicknamed CM, his creative partner, who won two Oscars for the set and costume design of The Great Gatsby. It has now become my life's mission to be invited to one of the Luhrmann family parties. I mean, look at this party scene from Great Gatsby. I don't even like parties that much and yet I would give my left arm to be able to go to this one.
The Marmite of movies
Watched Moulin Rouge and just didn't 'get' it the first time? You're not the only one. Baz Luhrmann's films divide option like basically nothing else. And they often receive lacklustre reviews when they're first released, but then go on to become legendary cult classics a few years later. Which is a kind of reassuring reason to shake off the haters, isn't it?
[NOTE: The one exception to this is 2008's Australia. Do not see Australia (I'm Australian, so I can say this). Soz Baz, but it is the worst film ever made. What was meant to be a tribute to your homeland became the longest three hours of my life. And it took me a long time to forgive you for almost ruining Hugh Jackman for me. Like honest to god, I can't even watch the whole trailer without getting bored.]
But anyway! Despite the odd fail, Baz has cemented himself in Hollywood as a director that people are desperate to work with – and with a style that's all his own. And with a stage musical of Moulin Rouge currently in the works (woop!), this definitely won't be the last you hear of him.
Here's to many majestic, over-the-top, lavish films in the future. Oh, and Baz, if you're reading this, can I please come round for dinner some time?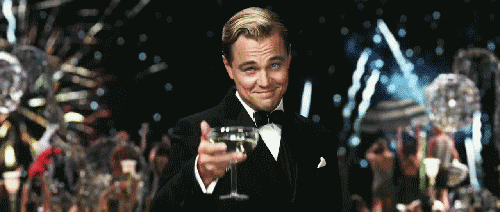 It's time you started celebrating your period, guys. Sign up to bettybox RN and get all your tampons and pads, beauty products, sweet treats and loads more cool stuff delivered to your door, every single month. We know. It's totally awesome.