There is nothing better than films about best friends, and Romy and Michele's High School Reunion is arguably the greatest buddy comedy movie of all time. This month marks 20 years since the twosome (played by Mira Sorvino and Lisa Kudrow) hit cinema screens, and the film has earned well-deserved cult classic status.
Here are just a few reasons you should watch it (beware: spoilers).
What's the deal with the plot?
Romy White and Michele Weinberger are best friends living glamorous lives in Los Angeles, after leaving their past as high school loners behind. They do everything together, from designing coordinating outfits for clubbing to attending spinning classes in shiny latex dresses and heels. When they get wind of their 10-year reunion at Sagebrush High School, Arizona, they decide to present themselves as a little more 'successful' than they really are…
Along the way they learn that maybe things were good as they were before, and trying to impress people you don't really care about is well, pointless.
What's the deal with the stars?
Recognise anyone? Lisa Kudrow was in the middle of Friends mania when she signed on to do the film, and had played Michele from the character's beginning in writer Robin Schiff's 1988 play Ladies' Room. And this was the first film Mira Sorvino chose to appear in after her Oscar-winning performance in Woody Allen's Mighty Aphrodite. Two gifted actors with perfect comic timing, they made one of the most iconic comedy double acts ever to grace our screens.
The definition of #friendshipgoals
Like any good friendship, Romy and Michele's is based on consistently complimenting each other and affirming each other's status as the two greatest people alive.
"Romy:
This is, like, the cutest we ever looked.
Michele:
Oh, it is definitely the cutest.
Romy:
Don't you love how we can just say that to each other and we know we're not being conceited?
Michele:
Oh, I know. We're just being honest."
In their high school days they were misfits that didn't really belong in any social group. They looked out for each other when faced with the popular 'A-Group' bullies and even took their yearbook photo together. Romy warned Michele when head mean girl Christie stuck magnets to her (constantly squeaking) back brace and Michele came to Romy's rescue at their final school dance when Romy's crush played a cruel trick on her.
The two of them slow-dancing to Time After Time while Romy is devastated is genuinely moving. Sob.
Even when they fight, they realise that what's important in the end is each other and not what some small-town meanies think.
"Romy, can I tell you the truth? I never knew that we weren't that great in high school. I mean, we always had so much fun together… I thought high school was a blast! And until you told me that our lives weren't good enough, I thought everything *since* high school was a blast."
What's the deal with the clothes?
The outfits in the film are sublime. Costume designer Mona May (who also worked on the original stage play, fact fans) made the flamboyant, outlandish – and in many cases skintight – creations Romy and Michele sported throughout the movie.
Highlights include their Businesswoman outfits complete with chic updos, their pink and blue 'fun and frisky' matching latex minidresses and basically everything they wore to the gym. Iconic, cartoonish and tacky in the best, best way.
What's the deal with Heather Mooney?
Played by brilliant comedian Janeane Garofalo, former Sagebrush High student Heather Mooney is the reason the film received an R-rating when it was released in 1997. Think of her as a more extreme Janice from Mean Girls, flinging swear words out at an alarming rate while chain-smoking (this was a pre-vape era, guys).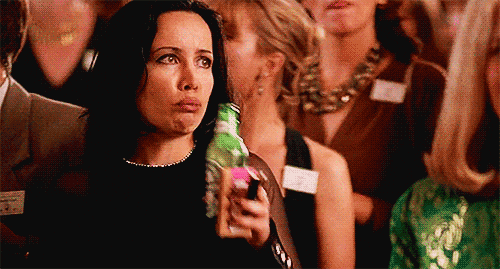 It's probably the most quotable movie ever
The film's director David Mirkin was also a showrunner for the Simpsons, so his comedy eye was seriously sharp, and Schiff's script is beyond perfect. To be honest the entire film is quotable so I had to do some serious narrowing down here… but enjoy:
When Romy tries to leave a conversation with a guy at the club with this perfect line.
When the two enquire at a roadside diner whether there are any deals for professionals like themselves.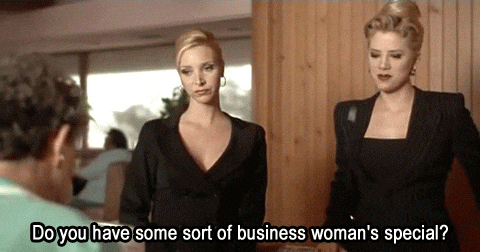 Romy letting everyone know she's a high-powered businesswoman, 90s-style.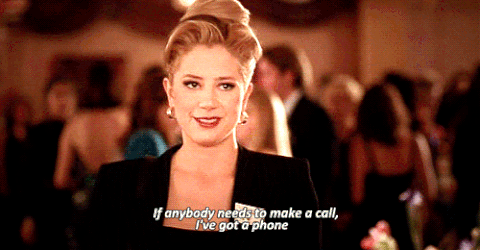 Michele showing the A-Group who the real success is, by reciting the formula for a post-it note glue. Which she… 'invented'.
When Romy and Michele confront Christie from the A-Group, telling her how pathetic it is that she's still a bully after all these years.
"But you know what I finally realised? I don't care if you like us, 'cause we don't like you. You're a bad person with an ugly heart, and we don't give a flying f**k what you think!"
Preeeach.
And finally… that dance scene
When Sandy Frink (Alan Cumming), nerd-turned-entrepreneur millionaire, asks Michele to dance with him at the reunion for old time's sake, and she accepts on the condition that Romy join them. What follows is truly one of the most majestic scenes in the history of celluloid.
Now you're fully briefed, you can bluff your way through any Romy and Michele conversation. Just like the good ladies themselves.
It's time you started celebrating your period, guys. Sign up to bettybox RN and get all your tampons and pads, beauty products, sweet treats and loads more cool stuff delivered to your door, every single month. We know. It's totally awesome.