Halloween is just around the corner (yesss), and that means your YouTube subscription box, Instagram feed and Pinterest boards are all probably jam-packed with dark, deadly and devilishly dreamy creations to copy on October 31st.
But hang on a second, surely you have to be pretty skilled in the art of special effects and fake blood trickery to be able to recreate some of these amazing looks? Nope, nuh-uh honey.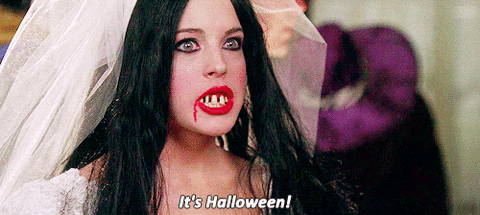 Don't panic about your party, because we've tracked down 14 awesome but actually really easy Halloween make-up tutorials that you can totally copy for the spooky season.
1. Cartoon Wonder Woman
If you wanna be the cutest cartoon in town, all you need to do is rock your usual make-up look – and then find a black and a white liquid eyeliner. Follow the contours of your face with the black for the illustrated lines, and add trace around them with the white. It's THAT easy.
For the ultimate Wonder Woman style, you might also want to pop on a snazzy golden crown and a killer red lip. Just don't forget to add the cartoon touches which make this look so cool.
2. Half skull
The best thing about this one is that it makes you look like the world's most skilled SFX make-up artist with minimal knowledge needed. Arm yourself with some black and white face paint and you're basically good to go.
Start by applying your normal products, then add in the all-important crack to divide your face from day to day to um, dead. Follow Roxi's brill tutorial to figure out where all the hollows and contours need to go, add in some shadows for depth, and you can't really go too wrong.
3. Veronica Lodge
Obsessed with all things Riverdale RN? Season 2 has just arrived on Netflix, which means that Halloween is the perfect chance to turn yourself into privileged princess, Veronica Lodge. Goals.
Maybe not the spookiest but definitely the chicest, all you need are some dark brows, a rich plum lip, sleek black curls and a pair of pearl earrings. It's up to you whether you steal her style with a yellow baseball tee or a River Vixen cheerleader kit.
4. Neon skull
After a Halloween tutorial that'll look killer in real life, but also get you all the likes on Instagram? The coolest look this year is definitely the neon skull, which is all about patience and a whole lot of blending.
The finished look might look mind-blowingly impressive, but it can be copied in surprisingly simple stages. Outline the skull shape in white, trace it in your favourite bright eyeshadow, fill in the blanks with black and define the bones with white liquid eyeliner. Tah dah.
5. Mermaid
Ariel is always a good idea when it comes to Halloween, and it's one of those costumes that you can sort of make up as you go along (which is always great when you're disorganised af).
Try following RhiannonClaire's video for some inspo, but as a general rule you might wanna try metallic pastel eyeshadows to create your mermaid vibe, dust them on through a pair of fishnet tights to make the scales, and hey, when all else fails, add glitter.
6. Zombie Taylor Swift
'Look What You Made Me Do' has been playing on repeat for a whole month now and as well as a killer new song, Swifty also blessed us all with a genius music video that just so happened to contain the perfect Halloween costume idea.
Turn yourself into 1989 era Taylor by opting for classic black and white skull make-up like SophDoesNails, messy 'I was dug up like this' blonde hair, and a pale blue dress. Drop dead gorgeous, TayTay.
7. Pennywise
If you've been wondering what the most popular Halloween costume of 2017 is gonna be, you're looking at it. It just became the highest grossing horror film of all time, but Pennywise is actually one of the lowest effort make-up looks. Fab.
When you don't quite trust your special effects skills, stick to a scary white face, a smokey black eye, a blood red nose and the signature, slightly terrifying red lines all the way up your face. You'll float too… *evil laugh*
8. Cracked broken doll
A great option for anyone who'd rather look pretty than petrifying at the party, a slightly spooky cracked porcelain doll is a classic choice (and super simple to transform into).
You can make 99 per cent of your make-up look fresh, dewy and girly with pink lips and fluttery lashes, and just add in a few creepy, broken smashes to your cheeks and forehead with nothing but a couple of eyeliners. Sorted.
9. Regina George
You're like, really pretty. We love your skirt, where did you get it? And tbh, why would anyone not want to dress up as Regina George for Halloween? She fractured her spine and she still looks like a rockstar.
Em Ford's version of the ultimate Mean Girl goes all out with an actual spinal support system, but you could always just recreate her prom look or one of her school outfits instead. Just stop trying to make fetch happen, it's not going to happen.
10. Your fave childhood cartoon character
Velvetgh0st came to the rescue with this video by serving up four super simple but adorable costume ideas inspired by her fave 90s cartoons. Our fave has got to be Mona The Vampire with her crazy bow braids, rosy cheeks and teeny tiny fangs.
They're all brill for when you're on a budget or if you've left things 'til last minute, and is it kind of weird that we want to start styling ourselves on Wednesday Adams now?
11. Dead glam
Been given a strictly dead dress code for your Halloween plans? If you really want to stick to the spooky side of things, this combo of graveside glamour is the perfect option.
Wear an all black outfit, backcomb your hair (and even use dry shampoo for some grey streaks) and sketch in those sunken cheekbones with dramatic smokey eyes and bleached-out lips. It's kind of gorgeous…?
12. Woodland deer
Maybe the most adorable of the whole bunch, Becca Rose's woodland deer is all kinds of cute and uses only cheap make-up products from start to finish. It's super simple to recreate, and uses warm-toned bronzer to exaggerate your contouring.
Add in a little heart shaped nose, winged liner and white polkadots to transform into a babein' little Bambi. You could even add some DIY antlers if you're feeling crafty.
13. Slytherin student
Cunning, shrewd and ambitious? Slytherin is the only Hogwarts house that you want to be in for Halloween. Cherry Wallis' amazing vid relies on an intense green smokey eye and some added drama with snake scales for Slytherin chic vibes.
She's also done tutorials for Ravenclaw, Gryffindor and Hufflepuff so you can stay loyal to your house, but surely it's all about Team Voldy when you're heading out with the spooks and spirits?
14. Eleven
And last but not least, if you're counting down the days/hours/minutes until Season 2 of Stranger Things hits your screen, you're gonna love this make-up tutorial to turn you into Millie Bobby Brown's Eleven.
You're gonna need some fake blood for your nosebleed, a bunch of battery fairy lights to reach the Upside Down, and make sure you perfect your intense angry stare, too.
It's time you started celebrating your period, guys. Sign up to bettybox RN and get all your tampons and pads, beauty products, sweet treats and loads more cool stuff delivered to your door, every single month. We know. It's totally awesome.