There's something especially precious about treats you buy yourself with the money you have saved up from a badly-paid part time job. This is why I still think about a handbag I bought when I was 15, that cost £15 from Miss Selfridge.
It was a pale, pale pink patent leather rectangle – really more of a phone case with a strap – and I paid for it with three and a half hours of my waitressing job wages. Three and a half hours of being shouted at by Richard, the whiny manager with a constant shaving rash and breath like the bottom of a bin. Three and a half hours of running between the kitchen, car park and dining room without spilling anything. Three and a half hours of intermittent bum pinching from Pete the pervy chef, and taunts from Zoe, the other waitress, who thought I was a "stuck up cow". It was totally worth it.
I love an accessory. I love them so much that if I'm reading a newspaper and see the phrase "charged with being an accessory to murder" my mind wanders and I start thinking about earrings, belts and beads. I started early, with the pink and white Minnie Mouse handbag that was given to me on Easter Sunday when I was three. (The bag was filled with chocolate eggs, which I ate very quickly, before vomiting behind the sofa.)
I was tall for my age, and plump. Most of the clothes that were supposed to fit girls my age were too small for me. So when my sisters all wore matching t-shirts with appliquéd flowers and I was sad about being "too big", I made myself a flower necklace, so we could match. When we couldn't find size eight shoes that were suitable for nine year old girls, I decorated a boys' pair with stick on earrings, and replaced the black laces with pink ones. Even now, my body changes and my clothes don't always fit me, but I can rely on bags, bangles and hats.
The most brilliant thing about accessories is that they can help you to pretend you're a fashion-forward style maverick with a Narnia-sized wardrobe, even when you own no more than three items of clothing. A statement necklace can make your oldest, most worn-out top seem brand new. You can shop exclusively in charity shops and Primark, and look like you just stepped out of a posh Hermès ad if you have a knack with scarves. Also, it's ok to make mistakes. If you leave the house and suddenly realise halfway through the day that you hate your dress, you're stuck. You can be grumpy, or you can be naked. But a rogue earring that starts looking a bit weird? Just pop it in your pocket, and start again.
The trouble with being female is that everyone has an opinion on the way you look. Whether it's in magazines, online, or even from your friends and family, there's always a suggestion that your clothes might be too revealing, not girly enough, a bit casual, "a bit much". There will be the people who will see you in a dress and heels and ask you, pointedly, if you're going to a wedding, and people who sneer at your sports luxe and say "I can't believe you'd wear that outside the gym".
But accessories are a woman's secret weapon. No one is going to accuse you of having a necklace that's too big or a bag that's too bright. I truly believe that I am at least 20 per cent more confident with every accessory I add – and although the way we look might not matter, it's confidence that will help us run the world.
Accessories 101: a workable wardrobe of outfit enhancers
1. The bag
Some people think that a nice big black bag will be practical and go with everything. I say that if you get it in your favourite bright colour, it will still go with everything and make you feel ten times more cheerful when you pick it up.
2. The statement necklace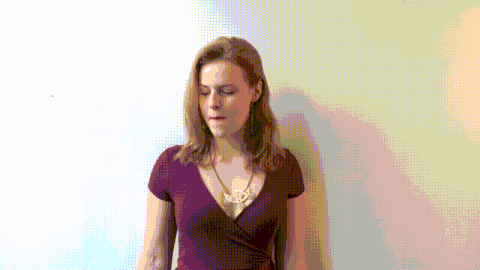 I have lost count of the number of times I've assumed that someone is wearing head to toe J Crew, when they're in their mum's jeans, an M&S t shirt and sunglasses that came with a magazine, just because they've got something big and beaded around their neck.
3. Ear cuffs
If you love the look of piercings but you're not sure you want to go permanent, you can clip a cuff to the very top of your ear, or flip up an earring so it runs up the lobe. Mismatch your earrings if you're feeling bold.
4. Scarves
Scarves – not just for the months between November and March! I found a posh Pucci one in TK Maxx, which works around my wrist, head, neck and handbag. I like wearing it with a baggy black jumpsuit that was £4 in a Dorothy Perkins bargain bin.
5. Cocktail rings
Even when the closest you will get to a fancy cocktail is a cup of tea, a big shiny ring will still make you feel as though you're at a party on Rihanna's yacht.
It's time you started celebrating your period, guys. Sign up to bettybox RN and get all your tampons and pads, beauty products, sweet treats and loads more cool stuff delivered to your door, every single month. We know. It's totally awesome. 
Image: Getty