Whether the old saying about having more fun is true or not, being blonde is great, hence why so many of us hit the bleach to achieve peak flaxen locks. Who doesn't want to channel their inner Elle Woods every once in a while?
But, if you've dabbled with the lighter side of life, you'll already know that bleached hair is high maintenance – all those root touch-ups and purple shampoos cost time and money. Add in the summer threats of drying UV rays, chlorinated swimming pools and salty, sandy beaches, and the hours spent between the shower and salon basically triple.
Here are all the things you know if you've ever had bleached hair in summer…
Walking out of the salon with a fresh head of bleach is a dream
The way the sun bounces off your tresses? Like something out of a shampoo ad, seriously.
And all your new holiday clothes look SO GOOD now your pesky roots are gone
Your selfie game is gonna be on fire all week long.
But you know you're going to need to take drastic action to protect your new 'do on vacay
*Packs heat defence spray, five conditioning treatments and an ill-advised baseball cap*
The trouble starts the minute you get off the plane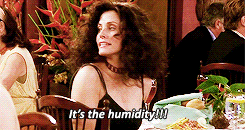 Monica was right, it IS the humidity, and it will hit you 10 times harder if you're sporting a full head of faux ice blonde.
But you manage to get things back under control…
You hit the beach looking and feeling like C.J. Parker in Baywatch, thanks to a clever leave-in conditioner and a top-knot that's just the right side of messy. Phew.
…until you get in the sea
You had visions of natural, surfer girl waves. What you got was crispy curls with a side of seaweed.
Brushing your hair really isn't an option
The only way to get those new knots out is to hop in the shower, use an entire bottle of conditioner and try not to cry with the pain your comb is causing. Side note: remember to de-fuzz the plughole. Nobody likes picking up someone else's literal cast-offs.
Don't even think about blow-drying it
Adding more heat into the equation? ARE YOU CRAZY?! You're just asking for frizz, now.
And no amount of sun-specific shampoos can save you from your hotel pool
At least you know it's REALLY clean if the chlorine is also strong enough to turn your hair green.
But there is one weird, kinda gross solution
If it's happened to you before, you'll know that washing your barnet in ketchup is one of the only ways to neutralise the green tones until you can get to the salon. Mmm, Heinz.
It's time you started celebrating your period, guys. Sign up to bettybox RN and get all your tampons and pads, beauty products, sweet treats and loads more cool stuff delivered to your door, every single month. We know. It's totally awesome. 
Image: Legally Blonde