Halloween is almost here and, while we all love dressing up, it can be difficult to think of an original costume that won't cost a fortune to create.
Since nobody wants to see you wearing your actual bedsheet as a ghost cossie again, we've pulled some pop culture inspo for you to swoon over, along with some suggestions of how to recreate the looks IRL. And no, there's not an It clown mask in sight.
You can thank us later when your Insta likes are through the roof.
Beyoncé and the twins
You can go as simple or as outlandish as you like with Bey's baby arrival Instagram announcement, as long as you have two dolls on hand to play Sir Carter and Rumi, plus plenty of chiffon from the haberdashery to waft around in. Snaps if you do a full photoshoot complete with floral arch.
Zombie Taylor Swift
There are so many potential costumes in Taylor's Look What You Made Me Do video, but zombie Taylor in a white dress feels the most Halloween-appropriate – though you should probably leave the shovel at home. Don't forget your 'Here Lies Taylor Swift's Reputation' sign.
Betty and Veronica from Riverdale
Get your best mate involved, make sure you've got a blonde and a brunette wig if your own hair colours don't match up, and recreate the Riverdale gals' cheerleading outfits. Bonus: since they're basically T-shirts, gym shorts and long socks, not only are these costumes friendly on your bank balance, but you'll probably find a way to reuse them. Like in P.E.
Hillary Clinton
Get yourself a cute red trouser suit (maybe from your nan's wardrobe?), a cropped blonde wig and you're ready to pay homage to the almost-President of the United States. Need further inspiration? Check out Katy Perry's Hillary cossie from last year. Prosthetics and boyfriend dressed as Bill Clinton entirely optional.
Love Island
There are so many ways you could embody this year's most talked-about TV show, Love Island, but you might get a little chilly if you try going out in just your bikini. Why not create yourself a cardboard map of the British Isles to wear and cover it in hearts? Geddit? LOVE Island?
Salt bae
White T-shirt, fistful of salt and you're ready to play one of the year's best memes.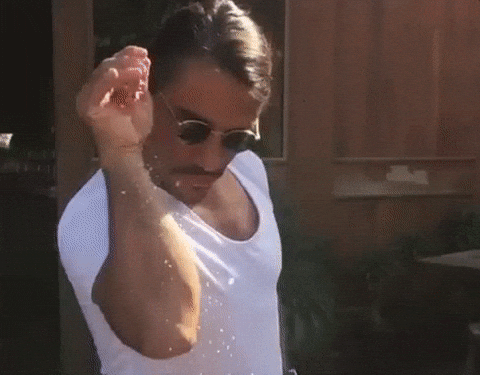 You're welcome.