Does anyone actually look forward to their period? We've all heard of those mythical girls who barely notice their flow and claim to actually feel better when they're on, but for most of us, a week of spots, rage, killer cramps and the rest ain't loadsa fun.
If you reckon that the only reason to count down to your period is to work out when it'll all be over, then we've got news for you: it doesn't actually have to be that bad. Check out these seven ways to make your period something to look forward to.
1. Guilt-free snackage
You have 75% of your life to worry about whether or not you should eat just one more spoon of peanut butter/Nutella/Dairylea spread, but this is not the time for that.
It's not because calories don't count while you're on your period (total fake news), but if a few extra goodies take your mind off feeling like a limp lettuce leaf, then go on – treat yo'self. Remember that healthy snacks like bananas and nuts are great for boosting energy, too.
2. Dress to impress no one
Want to wear massive, holey dungarees, your mum's gardening jumper and a pair of slipper socks? That's an acceptable OOTD right there. Or is a dressing gown and a beanie you bought with your pocket money on a school trip to the zoo in 2005 more your style? Girl, you look fresh.
How about leggings that are bobblier than a bunch of bobble hats but are just way too soft to throw away? Pop them right on! There's only one trend you should be bothered about at this time of the month: #COSY.
3. Be a human hedgehog
On days when even crawling up to your bed feels like a bit of an effort, why not indulge in a spot of sofa hibernation? Wrap yourself in every blanket you can find, curl up in a big fuzzy ball, fire up Netflix and watch episodes 1-12 of whatever the hell you want without moving.
On a normal day that might feel a bit lazy, but when it's your period, it's allowed. We say so.
4. Nice one, bod
Hooray, your body is doing a great job! It might be a pain, but your period's arrival each month means that your insides are doing exactly what they're meant to do.
Usually, it means you're a healthy weight (as being under or overweight can affect your cycle), that you're not pregnant (although some women's periods continue while pregnant) and it's your body's way of having a little spring clean. Party time!
5. Be a girl
Getting your period is one big fat reminder of the fact that you're a woman and even if this is a slightly sucky way to be reminded of it, you can't deny it: being a girl rocks. If you're super-feminine and love being able to dress up, or if you like lifting weights to feel strong, or if you're all about building a kick-ass girl tribe, now is the best time of all to celebrate.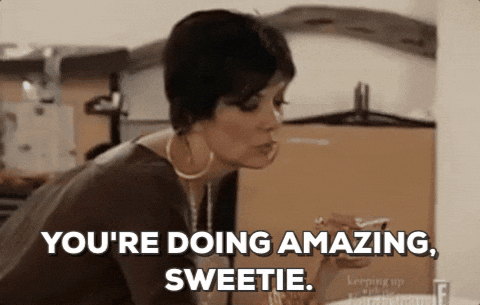 Whether you look up to Malala, Taylor Swift, Michelle Obama or Kylie Kardashian, your little red friend is here to remind you that you, like them, can do anything!
6. Give yourself a break
As tiredness rules and hormones are raging, you might find yourself being a liiiittle bit unreasonable at times. While it's never great to feel like you're not being your best version of yourself, no one says the right thing 100% of the time.
Your hormones get a bit wonky during this time of the month and can make you act in ways you wouldn't otherwise. If you slip up and snap someone's head off, don't sweat it: just say sorry (this is key!) and move on. Definitely don't dwell on it because you have way more important things to be doing (like making a hot choc and having an early night).
7. It's a time to focus on you
While not everyone feels wiped out by their period, it's not unusual to crave a bit of downtime at home. It's totally annoying to have to change plans just so you can lie around, but if you do have to, then make the most of it!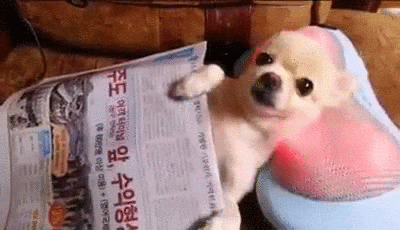 Life can get so jam-packed with mates, school, work and parties that there's never time to try baking muffins, putting together some outfits or writing to your MP about something that's making you mad. Make your period work for you!
8. It's time for a little treat to plop onto your doormat
Need we even point out one of the coolest things of all to happen at this time of the month… It's your bettybox, of course!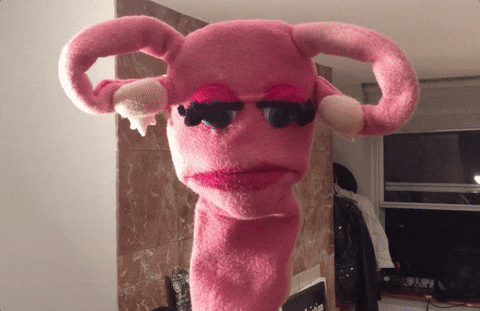 bettybox subscribers get a bunch of goodies including beauty products from brands you love, sweet treats and your choice of period protection, perfectly timed to arrive when you need it most. Find out more here!
It's time you started celebrating your period, guys. Sign up to bettybox RN and get all your tampons and pads, beauty products, sweet treats and loads more cool stuff delivered to your door, every single month. We know. It's totally awesome.